Introduction
Adjustable-pitch solar mounting system is an adjustable mounting system that can be used in any conditions. The installation angle is adjustable and very convenient. It is typically suitable for flat roofs and ground power stations. All materials use Q235 galvanized steel and the surface is treated by silver anode oxidation, so the structure is applicable for various models. The height and the length of the aluminum guide can be freely adjusted. We can also adjust the solar mounting system according to the solar panel size. Besides, Davin adjustable mounting system can withstand strong wind load and snow load.
Advantages
1. Easy Installation
This solar mounting system is simple and convenient to install assemble and disassemble.
2. Safety and Reliability
Its galvanized steel structure ensures reliability and safety. We provide 20-year warranty for adjustable mounting system.
3. Flexibility and Adjustability
Our excellent design reduces the installation difficulty on various conditions.
4. CE Certification
Our solar mounting systems have gained the CE certification.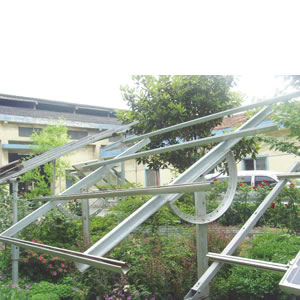 Ground Mounting System
Technical Parameters of Adjustable Mounting System
| | |
| --- | --- |
| Install Position | Outdoors |
| Install Angle | Any |
| Snow Load | 1.05 KN/m² |
| Wind Load | 0.85 KN/m² |
| Wind Speed | 32 m/s |
| Module Direction | Horizontal or Vertical |
| Module Solar Panel Size | Any |
| Module Type | Silicon or Amorphous Silicon |
| Material | Hot-Dip Galvanized Steel |
| Warranty | 20 Years |
| National Standard | GB/T13912/2002 |
As a manufacturer of adjustable mounting systems in China, Davin develops innovative system solutions for the international photovoltaic industry. Many years of experience and our excellent service make our company a pleasant partner in the field of solar mounting systems. We also offer ground mounting system and roof mounting system. Our products have been certified by ISO 9001: 2008 and have been exported to United States, Canada, Germany, France, Spanish, Italy, Switzerland, Norway, the Netherlands, Russia, Australia, etc.
Related products
Ground Mounting System
Ground mounting system can be applied to different geographical environment through rational design. It can not only be used for open field power plant with little land space requirement and environmental-friendliness ...

Industrial Aluminum Profile
Our industrial aluminum profile is designed to make assembly of aluminum applications fast and easy. It's suitable for making container, cylinder, transportation vehicles of cars, ...